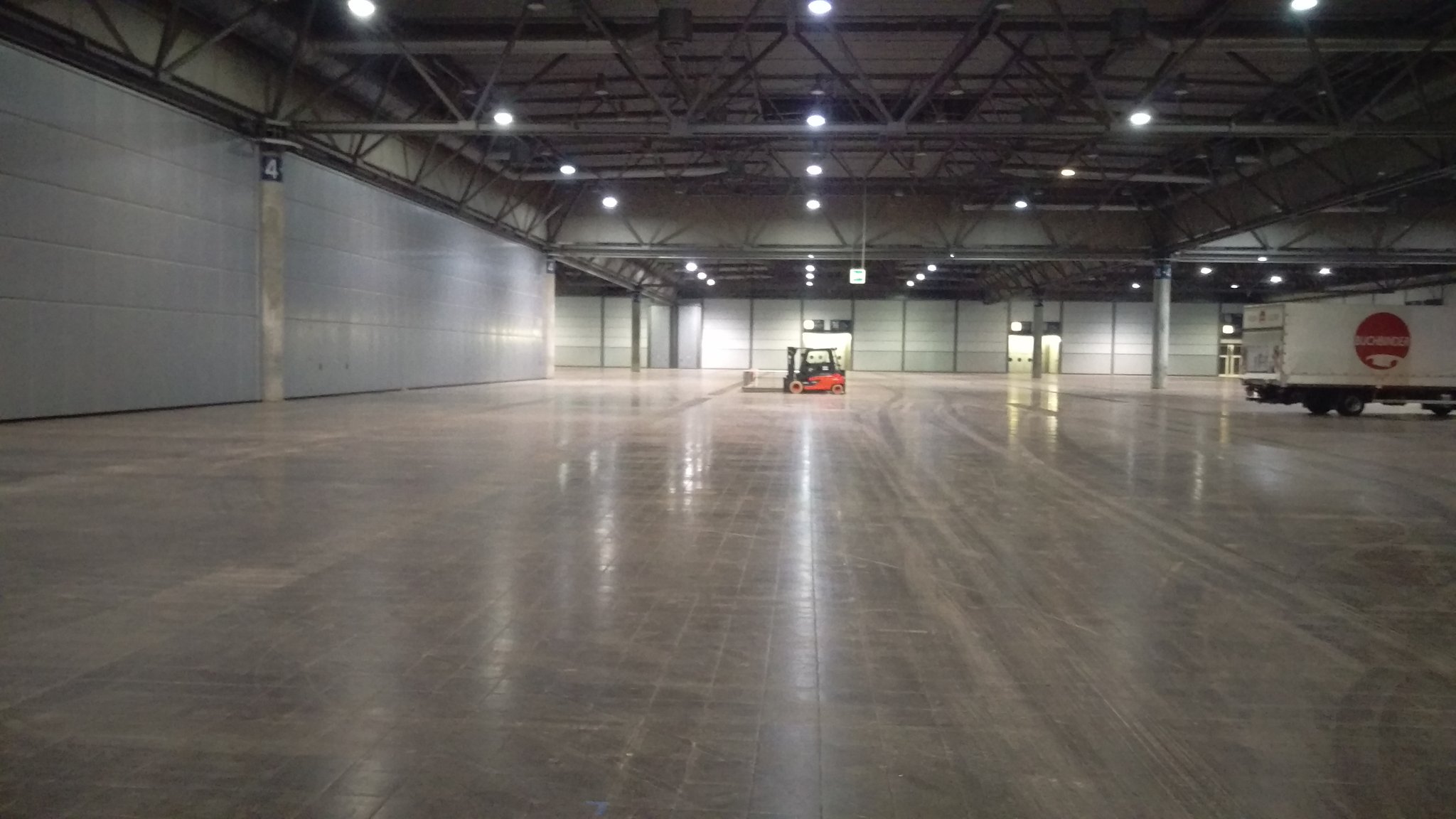 Call for Angels für den 36C3 Aufbau und Abbau
TL;DR
Der Aufbau und Abbau des 36C3 braucht Engel!
Wenn ihr beim Aufbau helfen wollt, kommt ab dem 18.12. zum Messegelände und meldet euch beim Heaven im CCL oder in Halle 4 für Infos.
Bringt euch warme Arbeitskleidung und feste Schuhe mit. Bonuspunkte gibt's für Sicherheitsschuhe!
Seid vorsichtig – der Aufbau ist eine Baustelle! Achtet auf euch und andere, haltet Abstand von Maschinen und Fahrzeugen und lasst eure Haustiere zu Hause! Kommt mit euren Kindern bitte nach Möglichkeit erst zur Veranstaltung.
Wenn ihr ein paar Tage länger bleiben könnt und euch ewige Karmabonuspunkte verdienen wollt, helft beim Abbau! Der Abbau startet nach der Closing Ceremony und dauert bis zum 05.01.2020, sprich weniger als die Hälfte der Aufbauzeit. Also brauchen wir im Abbau alle Engel, die wir kriegen können. Mehr Infos zum Abbau folgen auch noch in einem gesonderten Blogpost.
Für mehr Infos checkt die kommenden Posts im Eventblog.
Konkrete Fragen: 36c3@c3loc.de
long version
Wie jedes Jahr brauchen wir auch für den Aufbau des 36C3 so viele helfende Hände wie möglich, damit sich die tristen Messehallen in einen bunten Chaos Communication Congress verwandeln.
Der Congressaufbau startet dieses Jahr am 16. Dezember. Die ersten 2 Tage werden die einzelnen Teams vor allem mit Ankommen und Bootstrapping beschäftigt sein, bevor wir richtig loslegen. Sinnvoll parallelisierbar wird die Baustelle erst danach. Auch die Fülle an Aufgaben ergibt sich erst im Laufe der Zeit, sodass wir vor allem den Nicht-locals empfehlen, lieber noch ein paar Tage zu entspannen und ab dem 18. Dezember zur Messe zu kommen. Keine Sorge, Arbeit gibt es ab dem Zeitpunkt jeden Tag mehr.
Was muss im Aufbau alles gemacht werden?
Es gibt eine riesige Vielfalt an Dingen, die erledigt werden müssen, sodass alle etwas finden sollten, das ihnen liegt. Teilweise sind die Tasks geplant und stehen vorher fest, aber die meisten Aufgaben ergeben sich spontan, da wir den größeren Teil schlecht vorher planen können. Vor Allem die zeitlichen Abläufe sind im Aufbau eher variabel und können sich schnell mal ändern. Deshalb gibt es auch keine Schichten im Engelsystem. Schaut einfach vor Ort, was euch liegt und ihr gerne machen wollt. Fragt am besten im Heaven im CCL nach, was gerade erledigt werden muss, und lasst euch dort mit Infos versorgen. Falls der Heaven noch nicht aufgebaut sein sollte, kommt zum Preheaven in Halle 4.
Was muss sonst noch beachtet werden?
Die Hallen sind im gesamten Aufbau unbeheizt, bringt euch also warme Kleidung mit, die dreckig werden kann, und festes, robustes Schuhwerk. Bonuspunkte gibt es für Sicherheitsschuhe mit Schutzkappe S1 oder höher. Wir haben einen kleinen Vorrat an Schutzausrüstung mit den grundlegenden Dingen, wer aber gerne seine eigenen Handschuhe, Werkzeuge, $(Sicherheits-)Gadgets hat, ist mehr als herzlich eingeladen, diese mitzubringen.
Auch, wenn beim Aufbau oft eine entspannte Atmosphäre herrscht, ruft euch bitte trotzdem immer wieder ins Gedächtnis, dass ihr euch auf einer Baustelle befindet. Achtet auf euch und die Menschen in eurer Umgebung. Haltet großzügigen Sicherheitsabstand zu den Baumaschinen, Autos und Flurförderzeugen.
Kommt mit eurem Kind bitte nach Möglichkeit erst zur Veranstaltung. Kinder sind, insbesondere unbeaufsichtigt, in den Bauabschnitten ein enormes Sicherheitsrisiko – vor allem für sich selbst. Lasst auch eure Haustiere Zuhause. Eine Veranstaltung mit fünfstelliger Zahl verkaufter Tickets ist ohnehin nicht der richtige Ort für Tiere.
Und der Abbau?
Der Abbau beginnt an Tag 4 direkt nach der closing ceremony und dauert bis zum 05.01.2020.
Gerade im Abbau brauchen wir jede Hilfe, die wir bekommen können. Alles, was in zwei Wochen in der Messe errichtet wurde, muss innerhalb von 6 Tagen wieder auf LKW verladen und abtransportiert werden – also in weniger als der Hälfte der Zeit. Wir sind dankbar und freuen uns über alle Engel, die nach der Veranstaltung noch die Möglichkeit haben, ein, zwei oder mehr Tage länger zu bleiben und beim Abbau zu helfen.
Genauere Infos zum Abbau folgen im Laufe der nächsten Wochen als eigener Blogpost.
Für mehr Infos checkt die kommenden Posts im Eventblog.
Solltet ihr konkrete Fragen haben, wendet euch an 36c3@c3loc.de
Wir sehen uns in Leipzig!
Euer LOC
---
English Version
Call for Angels for the 36C3 buildup and teardown
TL;DR
The buildup and teardown of 36C3 needs angels!
If you want to help with the buildup, you can come to Messe Leipzig from the 18th of December and show up in Heaven (CCL) or in hall 4 for info.
Bring warm clothes and solid shoes. Safety shoes, if you have some.
Be careful – buildup means the halls are construction sites! Take care of yourself and others. Stay in safe distance from vehicles and heavy machines and leave your pets at home. Please don't bring children before the official start of the event if possible.
If you can stay a couple of days longer and want to earn eternal angel karma please help with the teardown! Teardown starts after the closing ceremony and goes on until the 5th of January, which means we have less than half the buildup time. So we need every possibly available angel. We will post more info regarding teardown on this blog soon.
For further info check the Event Blog for publications.
For concrete questions: 36c3@c3loc.de
Long Version
Like every year we need as many angels as possible for the 36C3 buildup so that the boring halls evolve to one shiny colourful Chaos Communication Congress.
This year's buildup starts on the 16th of December. During the first two days there will be mostly just team arrival and bootstrapping before it all really takes off. After this more parallelized tasks will show up every day. The majority of tasks take some time to surface. Because of that we ask especially the non-Leipzig-locals to rest some days instead of arriving early and come to the buildup from the 18th of December. Don't worry, there will be more than enough to do and more with every day.
What needs to be done?
There is a huge amount of variety in the tasks that need to be done so that everyone should find themselves a topic that fits them. Some tasks have been planned before but the majority of things happens quite spontaneously because we cannot anticipate everything very well beforehand. Especially the time tables are very fluid and can change quickly at times. Because of that there is no angel system or online shift planning used during buildup. Just come over and pick a task that suits you onsite. Please ask in Heaven, which is located in the CCL, what needs to be done at the moment or get yourself some info. If Heaven is not running yet come to the Preheaven in hall 4.
What else must be observed?
The halls are not heated during buildup. Bring some warm clothes that don't mind some dirt and bring solid shoes, bonus points for safety shoes S1 or higher. We have some personal protective equipment (PPE) to offer but if you can bring your own working gloves, tools, $(safety-)gadgets you are more than welcome to do so.
Despite the often chilled atmosphere during buildup please remember and be aware that the buildup is a construction site! Take care of yourself and the people around you and keep safe distance from heavy machines, cars, forklifts, trucks etc.
Please don't bring children before the official start of the event if possible. Children are an immense safety risk in the construcion areas – mostly for themselves. Please also leave your pets at home. An event with 16.000 attendees isn't the right place for animals anyway.
And the teardown?
Teardown starts on Day 4 directly after the closing ceremony and goes on until the 5th of January.
Especially during this phase we need every help we can possibly get. Everything brought into the halls during the two weeks of buildup needs to be brought out again within six days – which is less than half the amount of time. We are thankful and happy for every angel who is able to spend some more days onsite and help with tearing down this huge event.
More info especially regarding teardown will be posted on this blog soon.
For further info check the Event Blog for publications.
If you have concrete questions please contact 36c3@c3loc.de
See you in Leipzig!
Your LOC